According to estimates recently published in the Marijuana Business Factbook, the US cannabis industry's economic impact could hit $130 billion by 2024.
This would be an increase from $38 billion-$46 billion in 2019 to $106 billion-$130 billion by 2024 – a 181% increase.
The Marijuana Business Factbook estimates use an economic multiplier of 3.5 to quantify the industry's overall contribution to the economy.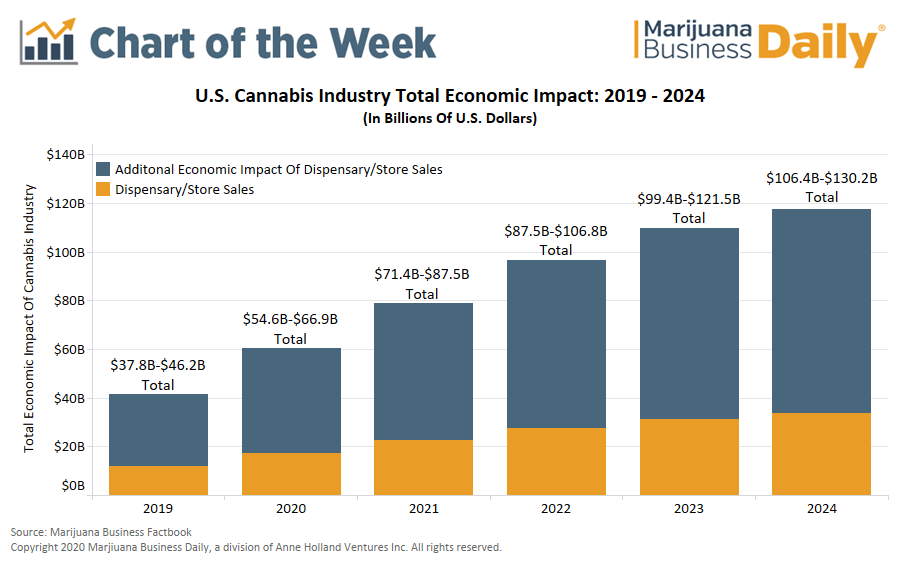 Covid-19 could be one reason why the industry may be thriving. In a research note earlier this year, MKM Partners analyst Bill Kirk said that, based on an analysis of 1,000 pot consumers and 863 alcohol consumers surveyed in the U.S. and Canada, cannabis consumers prefer to be alone or in small groups when getting high. Alcohol consumers prefer to be in larger gatherings.
"The vice of choice when alone is cannabis. The vice of choice in large groups or with new people is alcohol," he said. "We believe any increased stay-at-home activity related to Covid-19 will accelerate the vice share shift away from alcohol toward cannabis."
Kirk also noted that while alcohol prices remained steady, cannabis prices were falling, potentially attracting more customers.